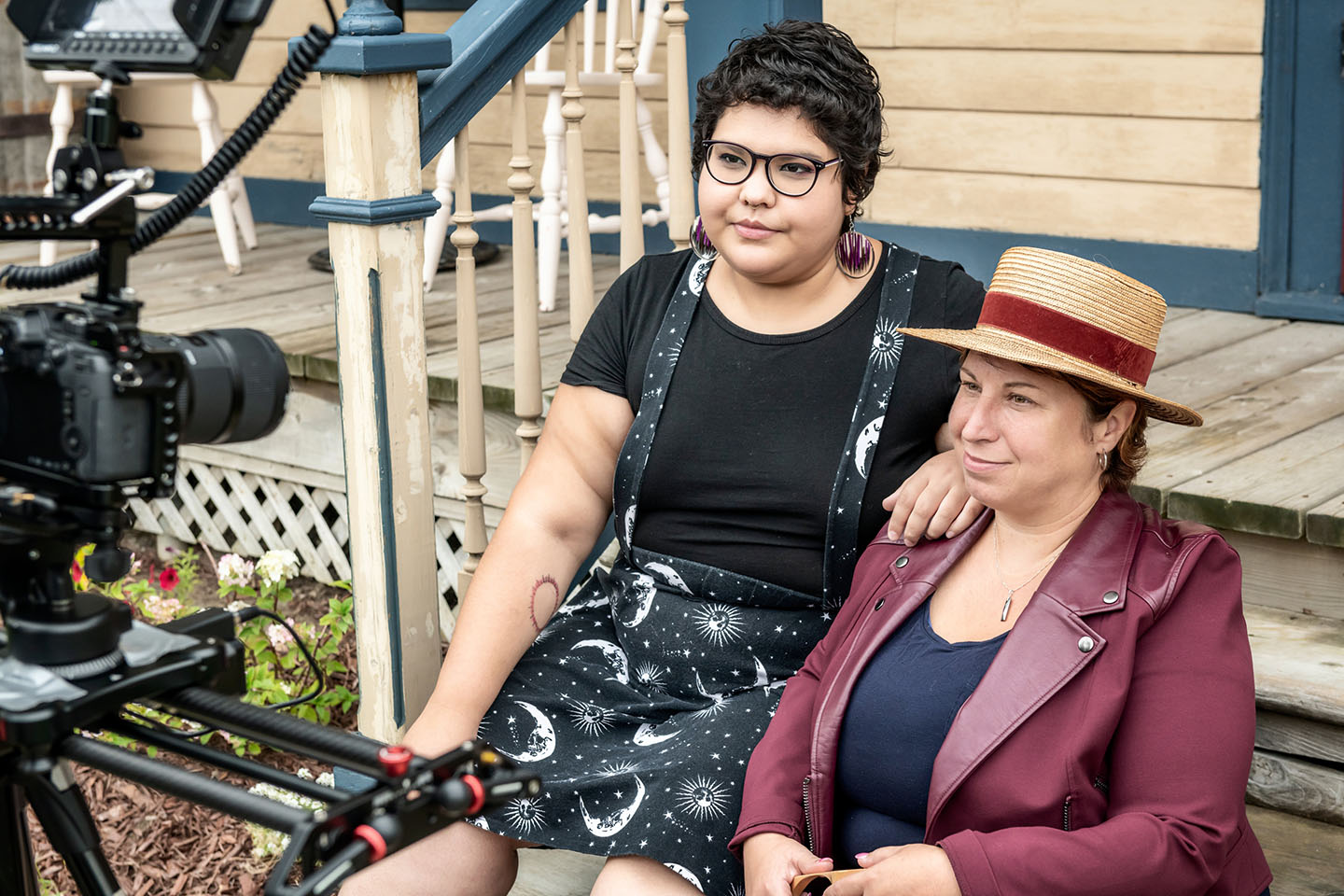 Proud To Have a White Friend! is a satirical webfiction that reverses social roles! This campaign against stereotypes is an invitation to demystify White people and their strange and exotic culture. Contrary to popular belief, "no, not all Whites are the same! " It was co-written by eight artists from various cultures: Atikamekw, Anishnabe, Haitian, Tunisian, Congolese, Cameroonian and Quebecois.
The story is told through an interactive platform and video vignettes that borrow on the look of a charity campaign. Participants introduce their "White friend" and explain how this encounter has raised their awareness. What if, underneath their skin color, each White person was first and foremost an individual?
N.B. all 5 video vignettes have english subtitles. Locate the parameters icon at the bottom-right of the video screen to activate it.
What is the project's objective?
Initially, there is this workable belief throughout societies that the majority has the privilege to define the "other". It is them who label and classify these "others" within homogeneous categories: ethnic minorities, gays, Indigenous Peoples, the poor, etc. This project reverses these codes and places the so-called majority in a situation where it becomes their turn for analysis, categorization and simplification. The Whites, then, become a monolith whether they are Australian, French, Québécois or something else. What can be perceived as a project that is insolent toward White people is, on the contrary… a sort of gift. For a few minutes, we provide an opportunity to experience what people of colour live with all year long. Besides, it costs nothing, it's quick and amusing.
But to laugh at Whites like that, not everyone finds it amusing. Is this not reverse racism?
Yes, there are Whites who may react negatively, and it's understandable. In fact, with this project, they are not portrayed as individuals in and of themselves. Instead, they become a number within a defined group. It is apparently the loss of the privilege of individuality that incites negative reactions. African American author, Micheal Harriot, uses similar language to explain how many Whites feel when confronted by movements like Black Lives Matter and Idle No More: "[Reverse racism felt by Whites] is the erosion of what I call the "privilege of individuality". Whites are not used to being regrouped nor defined by the actions of others. Welcome to the club!"
To laugh at Whites requires a contextualization. White culture has for centuries produced a phenomenal quantity of jokes and derogatory terms toward other cultures. They could never counter-attack to a level that would rivalize this White wisecrack machine. And even if they could, they certainly have better things to do…
You use the term "White culture" even though the concept has no sociological founding. How do you define this choice?
To be more precise, we should be talking about "White Western culture", but that is too long to write. We could then just say "western culture" because many described behaviours have been adopted by racialized people living in the West. In fact, to dream to have a house on the coast (or to already have one) is not just the prerogative of Whites. No more than going to the theatre, the opera, nor anywhere else that costs a lot to get in. But these behaviours usually require earning a good salary, which is a situation in the West more frequently accessible to Whites. Said in another way, the term "White" is less used to describe the colour of one's skin rather than to evoke one's social position.
In addition, the term "White culture" is also a mischievous wink to semantic shortcuts coming from the mouths of Whites: "Indigenous culture", "Latino culture", "Asian culture", etc.
Why speak of the "White majority" while they are a minority in the world?
It's true that Whites represent less than 15% of the global population (1). They nonetheless benefit from an economic, political and cultural influence on the rest of the world that is similar to that of a majority, hence the term "White majority".
The typical metaphor used to define the world's White hegemony is found in the bandaid. These bandages commercialized by Band-Aid are labelled as "skin colour" but in fact they are a pale pink, like the skin of Whites. While the majority of the world's population has a dark skin colour, Band-Aid managed to export more than 100 billion of these bandages since 1920.
Another seemingly insignificant example is the way camera lenses were developed. "Since the 1920s, all cinematographic productions were conceived for the White face," explains Nelly Quemener. "By studying these White norms we understand why Blacks appear poorly on the screen." (2) "All the experimentation […] on the chemical properties of film, the size of the aperture, the length of the development and the artificial light had no other purpose than to show the "exactitude" of the White face." (3)
In conclusion, it is more accurate to portray Whites like a "dominant group" than as a "majority group" in the world. But be careful, certain Whites among your entourage may react negatively and argue if you associate them to any part of world domination.
(1a) en.wikipedia.org/wiki/Demographics_of_the_world
(1b) ktwop.com/2014/07/26/the-changing-colour-of-the-world-population/
(2) liberation.fr/cahier-ete-2015/2015/08/28/les-blancs-une-majorite-invisible_1371285
(3) polirevue.files.wordpress.com/2015/07/poli_10_dyer.pdf
The director of the project is white. Is this not incoherent?
This is a pertinent question. It should be noted that "Proud to have a white friend!" is inscribed within a series of works* initiated by the director, Julien Boivert. These projects were most often developed in a co-creation mindset, either within a collective, in a school setting or with marginalized communities. They are directed WITH the protagonists and not ABOUT the protagonists. These projects share a common trajectory that questions the dominant discourse. Julien and his team work to reverse the dominant paradigm using recurring elements like humour, the pastiche, web interactivity and videography.
In addition to this, the director's skin colour leads to another interesting question. Considering the legendary White fragility in the face of critique, how would Whites have reacted to the project if it was produced by a person of colour? Would Whites have taken shortcuts to deduce that resentment or reverse racism fueled the engine of the project? Let's be hopeful that the day will come when Whites will have greater self-confidence to listen to others without reticence, whether they are White or racialized.
*Among the projects directed by Julien Boisvert include: the academic conference entitled: "Demystifying heterosexuality", the humanitarian campaign: "Sponsor a Wealthy Child", and the project: "The Square of Qallunaat", produced within an Inuit context.
The project was produced in Québec where Whites of French origin are the majority, but are in a minority situation within Canada. How to respond to White Québécois who perceive themselves as a group that is discriminated against, but who simultaneously reject the idea that they can be a group that also practices discrimination upon others?
Hmm… That's a very long question! Here is the short answer. At the risk of disappointing, this project is not dedicated to white Québécois. Nor to white Canadians, nor Americans, nor to any other whiteness. Their cultural differences are erased to form a homogeneous all — White culture — in the same way we ignore the diversity when we speak of "indigenous culture", "african culture", etc.
Screenwriting
Emna Achour – Scénariste et interprète

Josépha Emmanuelle Bindzi – Scénariste et interprète

Julien Boisvert – Scénariste et réalisateur

Dolino – Scénariste et interprète

Nadia Gagné – Scénariste web

Anastasia Marcelin – Scénariste et interprète

Alexandre Nequado – Scénariste et interprète

Kijâtai-Alexandra Veillette-Cheezo – Scénariste et interprète
Video production
Réalisation Julien Boisvert
Direction-photo Colby Ollyndo
Assistance à la réalisation Geneviève B. Genest
Montage image Boban Chaldovich
Montage online / colorisation Pablo Perugorria-Del Gesso
Mixage sonore Diego Betian
Wed diffusion
Développement web Réseau Koumbit
Stratégie générale de diffusion KNGFU
Stratégie réseaux sociaux Ghassan Fayad
Gestion de communautés Cédric Gaillard Desrosiers
Marketing web Josépha Emmanuelle Bindzi
Sous-titrage Semantikos
Traduction web David Widgington
Thanks
École secondaire Soulanges, Ville de Coteau-du-lac, Nadine Maltais, Karina DeNobriga, Mikana, Marwen Tlili, Lénine Nankassa Boucal, Zakari Yaou Hamza, Josiane Farand (L'art de capter), Jean-François Blaizel, Stéphanie-Manon Galibois, Jean-François Leboeuf, Stéphane Lahoud, Martine Gignac, Marie-Michèle Genest, Justin Berger, Evelyne Lafleur-Guy, Mathieu Ménard, Cadence O'Neal, Kama La Mackerel, Véro Leduc, Josué Bertolino, Geneviève Bouchard, L'Oasis des enfants, Vidéographe, Mathieu-Nicolas Boisvert, Fabienne Lord, Céline Lacerte, Yves Gélinas, Michel Boisvert, Louis St-Onge, Alex Vujacic, Jon Mitchell.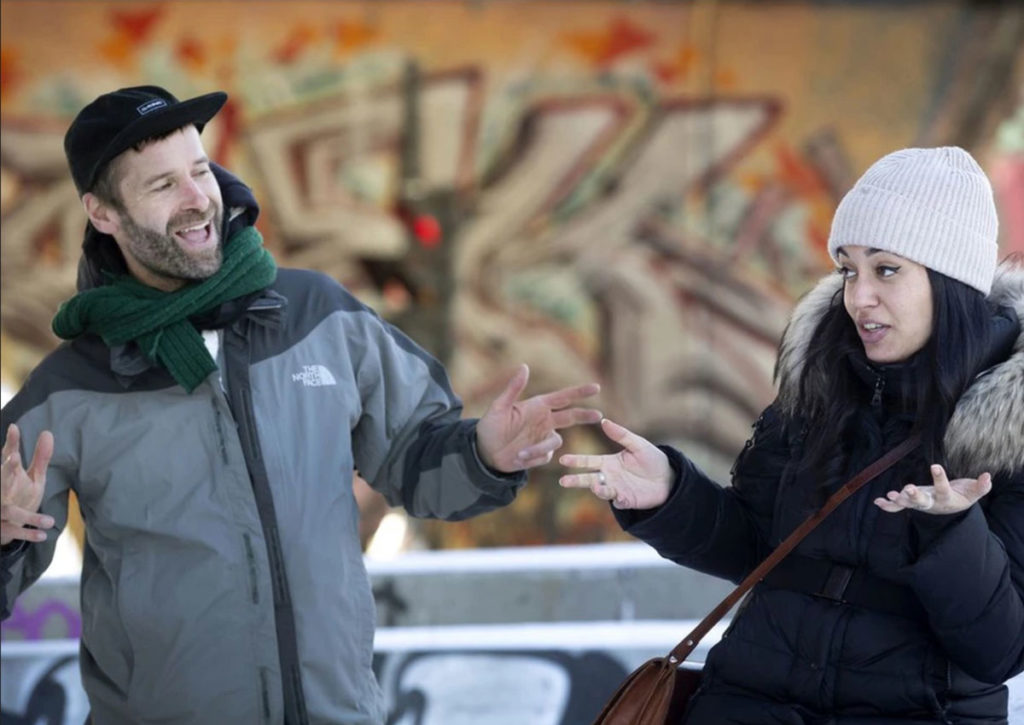 ---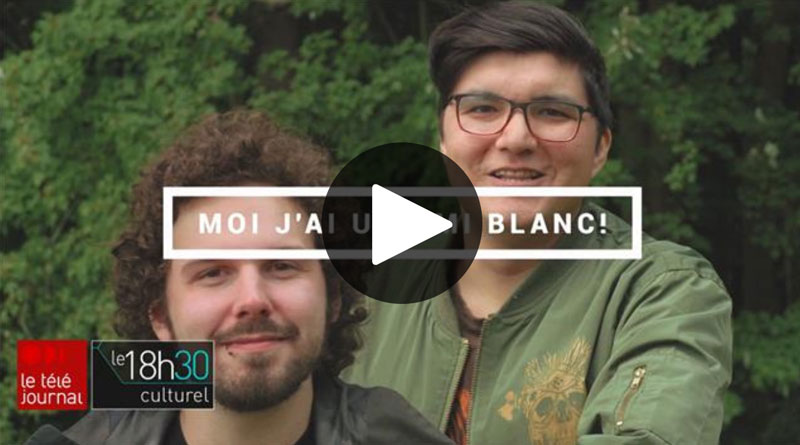 Téléjournal national, Radio-Canada, 9 décembre 2020
---
Complete review